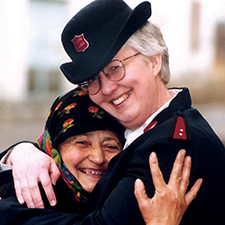 The mission of The Salvation Army Family Services is to fulfill the social, health, spiritual, and recreational needs of low-income individuals and families residing in Olympia, Lacey and Tumwater. Through our social welfare program, we provide assistance and support to address a wide variety of personal and social difficulties by helping our clients access necessary resources. We strive to preserve the dignity and self-respect of the individuals and families seeking assistance, while encouraging them to become self-sufficient.
For more information on specific programs and locations, please contact The Salvation Army in Olympia at (360) 352-8596.
---
Social Services Office
Our social services office is located at 824 5th Ave SE in downtown Olympia. Our office hours are 8:00 am - 12:00 pm, Monday through Friday, and reopening after lunch from 1:00 pm - 3:30 pm on Mondays, Tuesdays, Thursdays, and Fridays.